Greyfriars is a 'Good' School - Ofsted 2023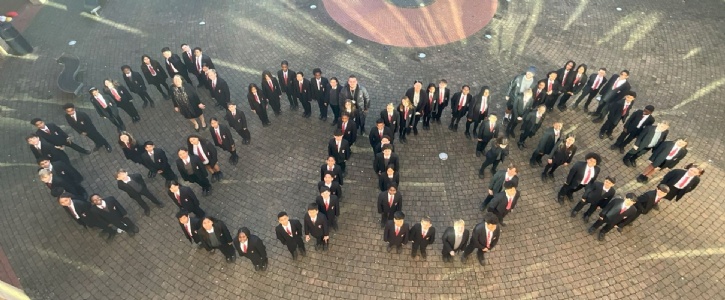 The community at Greyfriars Catholic School is celebrating the outcome of our recent Ofsted inspection, which took place in October 2023. We were judged to be Good overall and Good in all areas: Quality of Education, Behaviour and Attitudes, Personal Development, Leadership and Management and Sixth Form. Inspectors were highly impressed with the school, which has been 'transformed'.
During their visit, inspectors met with pupils, leaders, staff, trustees and governors. They talked to pupils about their work and experiences, visited lessons, including the Elective programme, and form time. They also spoke to curriculum leaders and teachers and looked in depth at areas of the curriculum, including English, Mathematics, Science, History and PE. Inspectors noted that Greyfriars 'has an ambitious curriculum. In each subject, planning clearly sets out what pupils are expected to learn to achieve well'.
The report starts with the experiences of children in the school as they 'enjoy the calm and respectful environment that helps them to study and learn' and that the Greyfriars values of 'knowledge, care and ambition' are evident across the school'. Greyfriars' vision is that all children will flourish individually and collectively and this is achieved through the Greyfriars Way: an understanding that individual actions have an effect on the whole community, and that small things matter. The Ofsted team recognised that the 'Greyfriars Way' is well established as pupils 'know what is expected of them' in terms of behaviour and that 'relationships between pupils are kind and respectful'.
The investment in Personal Development via the school's Elective programme, a programme of enrichment opportunities built into the school day, means that Greyfriars 'helps pupils be ambitious for their futures'. The experiences of pupils in Greyfriars mean that they 'are proud of their school and enjoy the opportunities they have to contribute to the life of the school and the wider community'. We are incredibly proud of our school community for this recognition.
The report recognises the work and determination of staff stating that 'staff have been resolute in transforming the school' as the predecessor school was graded as inadequate in October 2019. 'Expectations of pupils in lessons is high.' and Greyfriars is 'ambitious in its aims for all pupils to enjoy their learning and to flourish as individuals'. Greyfriars is committed to ensuring that the safeguarding team works to safeguard children. Safeguarding is also seen as effective and inspectors praised the extent to which the school 'has created an open and positive culture around safeguarding that puts pupils' interests first'.
Headteacher, Lyndsey Caldwell, said 'This report is a wonderful acknowledgement of the commitment and drive of the pupils and staff at Greyfriars Catholic School. We are so proud of our pupils and the way they live out the Greyfriars Way. We know that our school is not the building but the people and this report shows how we have all worked together as a community to create an ambitious school that we can all be immensely proud of. I would like to thank our staff team who have worked tirelessly to transform the school and I am delighted that this report recognises their determination and relentless effort. Thank you too to all the families, Governors and Pope Francis MAC colleagues for their support. Together, we are a powerful Greyfriars team.'
Chair of Governors, Mick Quigley, said 'We are delighted with this Ofsted Report and welcome the recognition it gives for the great work being done by the staff and students at Greyfriars.'
Fraser Long, Catholic Senior Executive Leader of the Pope Francis MAC, also said, 'This is a wonderful Ofsted report for Greyfriars, and external verification of the incredible hard work that all who are involved with the school have done to transform Greyfriars, led by our inspirational Headteacher, Lyndsey Caldwell.'